AOL users may notice that pictures on Celebrity Rants and all web sites in general appear a little blurry or discolored. You see, without your consent, AOL clandestinely reduces the size and quality of all images viewed using it's web browser and default settings. Their crummy compression may make some pages load more quickly, but it also distorts the images. And that stinks. (Hell, this is another good reason to dump AOL and get a broadband connection with your local cable provider!)
We have done all we can to ensure that our site looks as best as possible. We recommend that AOL members use the latest version of Microsoft's Internet Explorer web browser instead. But if you really must use the lousy built-in default AOL browser, please follow the steps below to turn off AOL's compression. You'll see an immediate visual improvement.
Here's how to change your AOL preferences so you can view images from all Web sites in their original quality as the authors intended:
1. Click "Settings" at the top of the AOL window
2. Select "Preferences"
3. Click "Internet Properties (WWW)"
4. Click on the "Web Graphics" tab
5. Select "Never compress graphics"
6. Click the "OK" button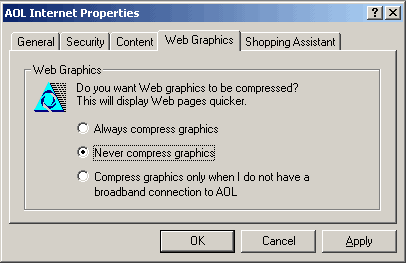 That's it! Any images that you have already viewed will look the same, but you'll be able to view new pages with their intended clarity. To reset all images, you must clear your AOL "cache," or local storage of image files. Consult AOL's help section for further instructions. Confused and hate AOL? Drop our webmaster an email and we'll help you.